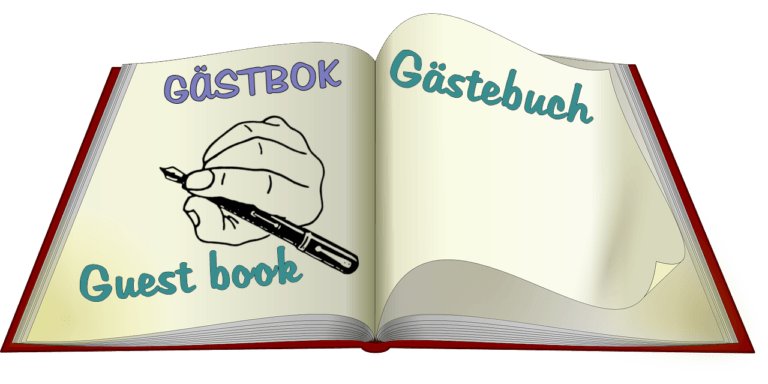 We are so glad that you are here !
Please sign our GUESTBOOK
Click the blue button
10 inlägg.
Beautiful lakeside camping, no mosquitos. Nicest place we hade been within 2 weeks of different places. Very clean and nice showers and toilets!
Swimming possible with sand and flat water. 😎
absolute Erholung
★ ★ ★ ★ ★

Nach zwei wunderbar erholsamen Wochen denken wir mit Sehnsucht an das liebevoll eingerichtete und saubere Haus, welches nahe am See lag. Blaubeeren pflücken, Boot fahren, angeln, Ausflüge an den Wasserfall von Aneby, nach Stockholm oder Västervik…und vor allem der nette Kontakt zu unseren Vermietern haben den Urlaub zu einer einzigartigen Erinnerung gemacht. Im Haus war komfortabel eingerichtet, auch Wasser war trotz großer Trockenheit vorhanden. Die Umgebung war ruhig, Nachbarn leise und nett, Aneby und Eksjö zum Einkaufen nicht weit weg. Am Tage konnte man auf Wiese den Kindern beim Spielen zuschauen, abends war Entspannung beim Kerzenschein, windstill mit wunderbarsten Sonnenuntergängen auf der Terrasse ein Traum. Wir danken herzlichst für diesen wundervollen Urlaub! Tack tack ❤
Lovely wooden chalet on lake Aneby, we loved our 6 day stay there in July 2017. The chalet's well tended, big garden does literally go right up to the lakeside and have it's own private jetty and little rowing boat. Our kids, 10 and 12 yrs absolutely loved the location, swimming and rowing every morning and afternoon. Note though in early July the water temperature is quite fresh! If you want to really swim in the lake, rather than just a quick dip, you'll need a shorty wetsuit. Aneby is the nearest small town, around 7-8 mins drive and has a couple of supermarkets and cafe's. If you want a larger town, you'll need to go to Jonkoping, around 40 mins drive away, at the foot of lake Vattern – beautiful little town. We made a couple of excursions, one to Granna, on the side of lake Vattern and took the ferry to the island of Visingso for a walk in the forest, and another to the local Moose park (Skullaryd Alg Park), both were fantastic! I can recommend this chalet and part of Sweden to visit.
Grüße aus Deutschland! Wir waren Anfang Juli in drei der wunderschönen Häuser am See! Und es war fantastisch! Der Platz am See ist märchenhaft, das Wasser toll und die Luft herrlich. Wir waren mit einer 7köpfigen Kindergruppe dort und hätten den Platz für Angebote ausserhalb eigtentlich nicht verlassen müssen. Die Kinder konnte sich wunderbar am See, mit dem Boot, mit Angeln, am Steg oder in der tollen Landschaft selbst beschäftigen.
Die Häuser sind toll und bieten alles was man so braucht. Sie sind sauber und sehr gepfelgt. Die Unterstützung von Erika war bestens (wenn uns z.B. mal die Würmer fürs Angeln gefehlt haben…;))
Wir werden nächstes Jahr wieder dorthin fahren. Es war eine tolle Zeit in Malsanna und die Plaltz ist nur zu empfehlen!!!!!!!!

Liebe Grüße

Waisenstift Varel
Schöner Camping in ruhiger Lage.

Wir waren 5 Tage auf dem Camping. Angeln und Boot mieten war kein Problem. Neue Sanitär war sauber, Menge zwei Waschbecken, zwei Toiletten (deckenhoch geschlossen) und drei Duschen für M+F, Behinderten Bad. Lage am See toll, schöne Wanderungen in die Umgebung möglich. Versorgung erfolgt in Aneby etwa 3-4 km vom Camping, sogar mit deutscher Apothekerin. Herrliche Sonnenuntergänge am See gesehen. Bahnlinie auf gegenüberliegender Seeseite.
"Erika's place is in the most beautiful surroundings with the lake right on the doorstep. Everything you could possibly want is provided and the house is full of light and warmth. Sitting on the deck with a glass of wine and watching a glorious sunset over the lake is perfection!"
Skøn og idyllisk hytte i dejligt skovområde – udsigten over søen var så smuk! Erika var meget venlig og sørgede for børnesenge, pusleplads og højstole til vores børn – dejlig nemt! Der var alt hvad vi skulle bruge i hytten. Området er virkelig smukt og med gode gåtursruter. Leos Lekland samt Rosenlundsbadet i Jönköbing er begge et besøg værd, hvis man har børn med på sin ferie. Vi vil klart overveje at komme tilbage 🙂
A well equipped house in a peaceful location with a wonderful view. The house is comfortably furnished and really has everything that you will need.
"This cottage is so lovely with a very nice lake view! It was so warm and cozy even during Sweden's winter. Erika was very helpful and responsive. No issue at all! We strongly recommend this place 😃
Our stay in Aneby was perfect ! The cottage was really cosy, and warm in winter times. The view from the cottage was awesome, and there were many places to hike not too far from our place. Erika was a nice host ! We definitely recommend this cottage to those who love nature, peace and quiet. 😊